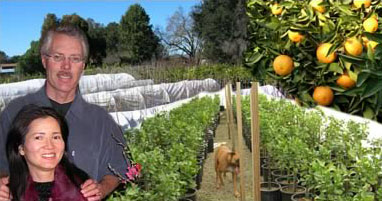 MENLO Growers is a family owned and operated nursery in California. We feature over 50 varieties of fine citrus trees and other numerous fruiting plants that are available through this site or by retail in many California retail nurseries and garden centers.
MENLO Growers is California's Premier supplier of high quality Citrus trees. Our incredible selection provides you with the widest number of choices of Healthy, Virus-free and Beautiful trees available anywhere.

Whether you are looking for a single tree to beautify your garden or a broad range of varieties to help enhance your landscape, Menlo Growers is the right place for you.

We ship directly to customers, at your business or home and guarantee the quality of every tree we provide. Trees are available in the following size containers: #5, #7, #15, #25 and #45. The larger sizes are specimen quality. Very large specimens are field-dug to 96 inch box, and are available on request

Feel free to browse our selection and contact us if you have any questions.
MENLO Growers
P.O. Box 1234,
11605 New Ave, Gilroy,
CA 95021-1234
Phone: (408) 683-4862
Fax: (408) 683-4543
Email Us

MENLO Growers is a proud member of the
California Citrus Association